The Late, Great Mr P
Born : (When Noah was a lad) – 11 January 1938
Died : 10 August 2016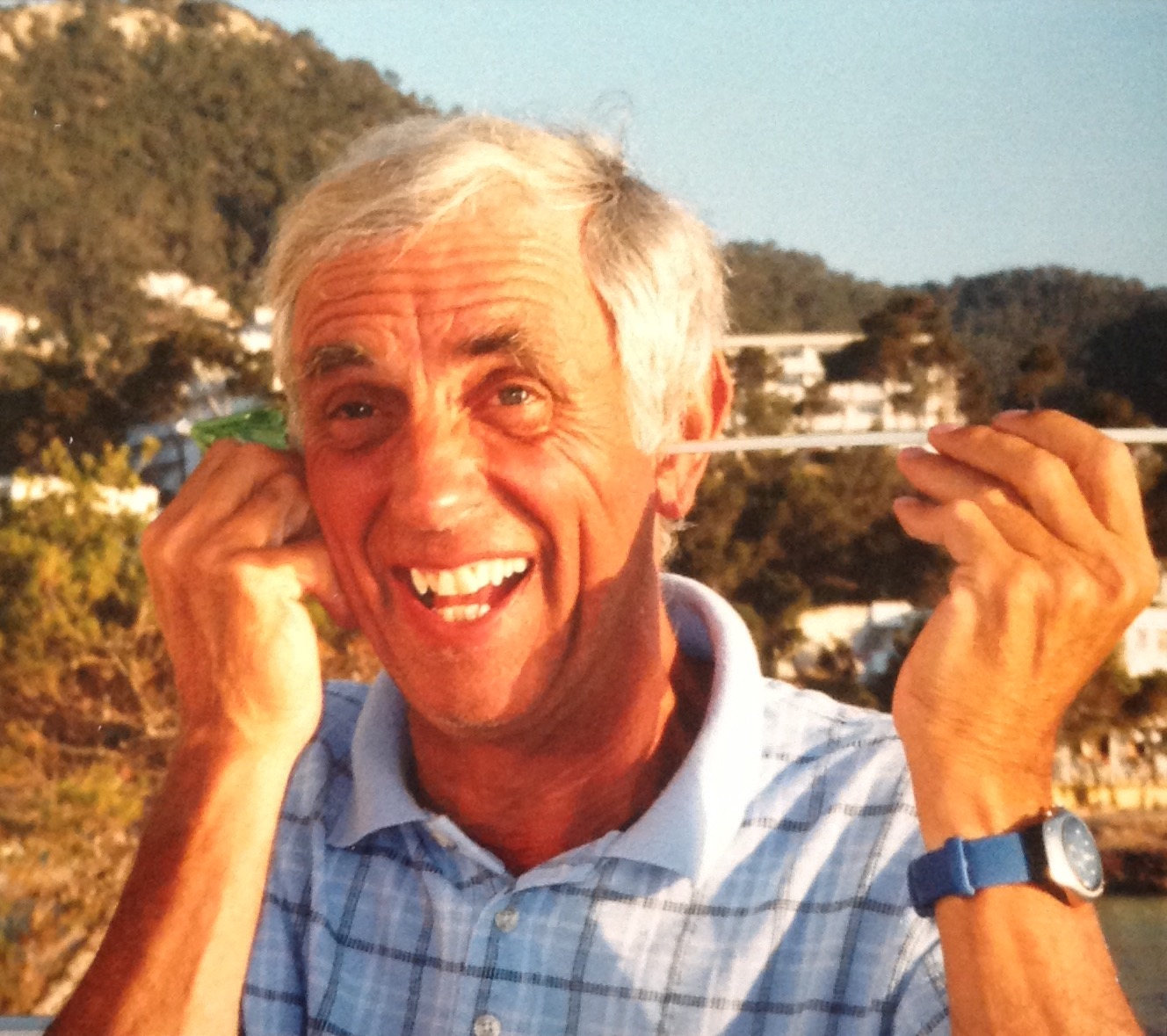 The recent sad passing of Colin Pitchforth after his fight with cancer has hit us all, his family, his friends and colleagues and the many people on whose lives he had an impact on. It is a great loss to the family and to us all, and naturally grieving will take place, but one thing I know the family want, and I am sure Colin would say the same, is that we remember the good times, the laughter and the infectious enthusiasm that was Mr P, picking on the positives of life – if a song was Mr P then Bring Me Sunshine, the Morecambe and Wise signature tune would be it – the first lines say it all.
Bring me Sunshine, in your smile,
Bring me Laughter, all the while,
In this world where we live, there should be more happiness,
Colin came into Gainsborough in the 70's and was a teacher in the town becoming Head Master at Ropery Road school, he became involved in swimming in the town in the late 70's and was head Coach at Trenton Dolphins from its start to its end – over 30 years and it is here many will have had their first contact with Colin and will remember him from.
Colin was affectionately known as Mr P within the swimming clubs and the wider swimming community in the County and also within the schools he was involved in, some do not know him by any other name!
Colin was a big family man, nothing pleased him more than time with his children Alison, Stephen and Ian, their partners and the Grandchildren, whether it be a weekend in Portsmouth or skiing in the US, that time was precious to him and the memories are now a massive comfort to the family. Speaking with Mary, she reminded me of how 'focused' Colin was (focused = unsympathetic?), when Mary broke her ankle a few years ago and was virtually immobile she was woken at 6:30 by 'Nurse Colin' who brought in tea and toast for breakfast, checked she was OK and then said 'see you later' and went off to play golf for the day, leaving her to somehow fend for herself! He didn't expect sympathy and didn't easily offer it, well not to Mary on this occasion!
From his scrappy piece of paper to collect subs to the familiar sight of him in his shorts, T-shirt, baseball cap and occasionally tank top, whatever the time of year and weather outside, along with his booming voice echoing across the pool they are trademarks of a very caring teacher/coach who was always positive in his praise of swimmers, a friend to parents and supportive of colleagues, but he could sometimes be a little scathing of officialdom if it appeared to be acting negatively towards the sport he loved! Mr P had a great rapport with his swimmers and his loud laugh was as much a familiar sound on poolside as his words of encouragement booming out over the splashing water were. That infectious laugh was always not far away as kids came onto the poolside, sharing a joke with them, enquiring how their day had gone, and taking an interest in their other sports and activities – it was not unknown for him to go and watch them play Rugby or Netball to support them. Even when the swimmers left to start their working lives, or moved away to college and University Colin wanted to know how they were doing and celebrated their successes.
Until first taken away from the 'bath side' as he referred to it, 18 months ago due to cancer, Colin was as dedicated to swimming at 75+ as he was in his early years of teaching back in the 1970's. Colin had been involved in swimming in Gainsborough for many, many years, with Gainsborough Swimming Club, then as a founder member of Trenton Dolphins Swimming Club when it was formed in 1979 and when in 2011, the three clubs in Gainsborough were pushed to into folding and being part of a new club Colin was very supportive of the process to ensure that the new club offered quality teaching and coaching for all swimmers, young and old, learn to swim and competitive, in the town and surrounding areas, taking the values of all three clubs into consideration, we even used his well stocked and manicured garden (his lawns were trimmed like a bowling green) for meetings!
Colin was Head Coach at Trenton Dolphins and had many successes at County, Midlands and National level and continued to teach with us at Gainsborough Dolphins and, up until his forced retirement due to illness 18 months ago, was still supporting swimmers and pushing them to gain County entry times, coming back to teach on a Monday night last September whilst battling the cancer. Colin also took great pleasure in teaching the young, new swimmers coming into the club at the early stages of swimming, teaching them the important basics and encouraging them into competitive swimming.
Colin had his way of doing things, parents and kids thought that much of him that even when they moved to the other side of town they still wanted to be at his school, he even collected them in his own car to take them to school. If kids wanted to swim but couldn't get from school to the pool, who did the taxi service? Mr P, meeting kids at the High School and getting them to the pool for the Monday 4pm session. Mr P was not an angel, I think he would agree with that, he could annoy you by moving one of your swimmers on the basis of seeing one length of one stroke, sometimes not even consulting you but he did it for one reason only – to help get the best out of the swimmer which was for the benefit of the swimmer and ultimately the club.
A lot of us will associate Mr P just with swimming and his teaching at Ropery School but he was a very keen golfer, had been on various Board of Governors, did 1 to 1 teaching, loved gardening, rugby and something not realised by many … he liked to holiday!! Within the club the joke was always, 'not another holiday… you have more holidays than Judith Chalmers'. He visited many different parts of the world, exposing the 'locals' to those legs along with the laugh but he was still thinking 'swimming' when away – once bringing a gift of swim hats back from a club in New Zealand that he befriended. However despite all his travels his heart was most definitely in Gainsborough.
Colin's only concession to swimming was his famed holidays, otherwise rain or shine he rarely missed a session, gala, a County, Midland or National swim, for many years Mr P was swimming in Gainsborough in many people's eyes.
On a personal level Mr P helped me in many ways not only in my swim teaching but off the 'bath side' as well. I was the Chair of Governors at Gainsborough Nursery School where Colin was on the board and his support and guidance was there when needed and as the Chair of both TD and GDSC his support for me and his knowledge of the swimming structure was invaluable at times, but I think the most important thing he has left me is the appreciation of others, the importance of 'Thank you'.
At AGM's he would always be the first to offer a vote of thanks for someone involved in the running of the club, whether that be Marie with the club shop, Julie as Treasurer or the ladies on the desk, he appreciated that for him to teach on the bath side, he needed a lot of other peoples support in the background.
We will all miss Mr P, the world will be a less colourful place but because of him for many of us it has been a good place to be for many years.
A final thought, possibly a Mr P mantra – I am sure Colin would agree with Morecambe and Wise – Life's too short to be spent having anything but fun
RIP Mr P
Nigel Stevenson on behalf of GDSC
Chair GDSC, colleague and friend
Please add your thoughts and memories of Colin, aka Mr P to the online Book of Remembrance – Mr P and us below.
There will also be a book on the club desk and a collection box in aid of cancer support charities, Macmillan Foundation and Marie Curie chosen by the family.